Stahl R is a Berlin based design studio founded in 2013 by Tobias Röttger and Susanne Stahl. We create unique design solutions for a broad range of clients from the commercial and the cultural fields. Our work is both research and concept driven. We don't believe in one aesthetic method, but rather in a project-specific approach. Our studio is a dynamic system in scope and scale, strengthened by a network of talented creatives from all disciplines. Our highly varied output has been rewarded with national and international awards. We work in a diverse range of design disciplines: from visual identities, publication design, environmental design, editorial and art direction, to time-based media and digital projects. Regardless of medium, our conceptual thinking leads to thoughtful, intelligent and innovative work.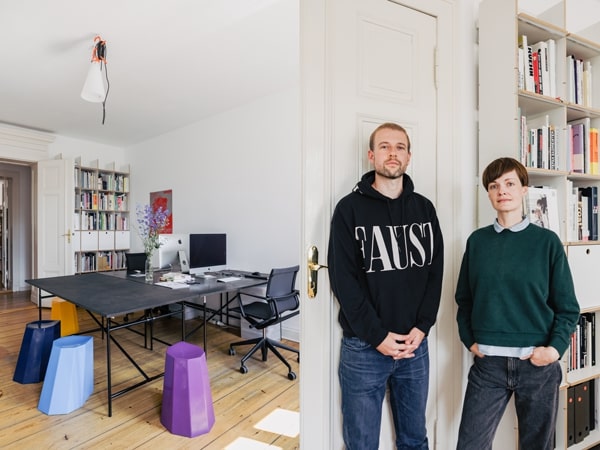 Stahl R
Ritterstraße 2b
10969 Berlin
Germany
For job inquiries or more information, please get in touch:
info@stahl-r.com
+49 (0)176 209 77 412
Internship
We offer a six month internship. Send your
application, including work samples (PDF or Link) to info@stahl-r.com. Please note, we can't reply to every application. Thanks for your understanding.
Susanne Stahl
Direction and Design
Susanne Stahl graduated with an MA in Visual Communication from Royal College of Art in London. She also has a Diploma in Integrated Design, studied abroad at the Institute of Technology in Bangkok, and was awarded a yearlong German Academic Exchange Service (DAAD) scholarship. During her three years at Studio Fons Hickmann m23, she worked on cultural, social, and business projects for clients including the Bavarian State Opera, Diakonie, Amnesty International and Red Dot Design Award. From 2011 to 2015 Stahl has been a lecturer at the University of the Arts in Berlin. Since 2023 she is a professor at FH Potsdam and a board member of 100 Best Posters e.V.
Tobias Röttger
Direction and Design
Tobias Röttger received a degree in Visual Communication from the University of Applied Sciences Mainz (Diploma), and spent one semester abroad at Swinburne University in Melbourne. Wallpaper* Magazine nominated him as one of the best design graduates, and he was a finalist for the Newcomer award by the German Design Council. For eight years he worked as a designer and art director for HORT in Frankfurt and Berlin, where he was responsible for international clients including IBM, Microsoft, Nike and Adidas. He also guest lectures at workshops, various colleges, and events both in Germany and abroad. Since 2018 he has been teaching regularly at the Berlin University of the Arts and the Film Academy Ludwigsburg.
Areas of expertise
Corporate Identity
Brand Consultancy
Editorial Design
Exhibitions and Signage
Webdesign
Awards (Selected)
100 Beste Plakate
European Design Award (Gold)
Output Award
Gute Gestaltung (Zukunft)
Art Directors Club Germany (Gold Medal)
Art Directors Club Europe
Finalist for the Newcomer Award by the German Design Council
D&AD (Yellow Pencil)
Tokyo Type Directors Club
»Best Graduates« by Wallpaper* Magazine
Clients
Architecture Biennale Rotterdam
Adidas
Bauhaus Dessau
Berlinale
Deutscher Akademischer
Austauschdienst (DAAD)
Folkdays
Fritzies Food Concept
Galerie Thomas Schulte
Highsnobiety
Imagine the City
Karl Schmidt-Rottluff Stiftung
Landesdenkmalamt Berlin
Lufthansa Innovation Hub
Lyrix e.V.
Lykon
Netzwerk Architekturwissenschaft e.V.
Mazine
Olympus
One Football
Resopal Schallware
Royal College of Art (London)
Start with a Friend e. V.
Studienstiftung des deutschen Volkes
RambaZamba Theater
Uslu Airlines
Uniqlo
Staff (Since 2012)
Kathrin Baumgartner
Johannes Schmoll
Susann Stefanizen
Elisabeth Suter
Sonja Erb
Timm Häneke
Copyright
This website and all of its content, including all text, graphics, video, and photos, are the copyrighted works of Stahl R and/or various third parties. The content is for your personal and non-commercial use only. You may not download our content for commercial purposes without prior written permission of Stahl R.
Website designed by:
Tobias Röttger, Susanne Stahl & Johannes Schmoll
Website built by:
Johannes Schmoll
Selected photography:
Ute Klein
Portrait photography:
Dahahm Choi